Information on the book "Baku, the wind-beaten city"

Given that you already know what the photo book is about I'll explain something about this book as a product. It consists of the online photos plus 35 photos more plus an article by my project partner Oriana Kraemer, the Architect (at that time bachelor student at Bauhaus Uni Weimar) that I worked with during my stay in Baku / Azerbaijan
It has 61 photographs and one information graphic. Trilingual (D, ENG, AZ), ISBN 978-3-00-032767-4
The first part of the book is an essay by my project partner Oriana Kraemer. Excerpt
Directly to the order site: €34 + shipping

A fiew impressions: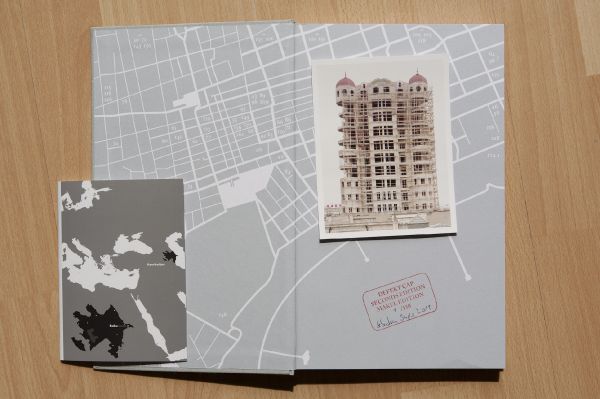 Baku Seconds Edition: book with a slight binding damage therefore with signed baryte print in a edition of 150; 38 €

Excerpt from Oriana Kramer´s essay :
[…] If one considers all the small modifications and corrections that were made with certain letters of the Latin and Cyrillic alphabet, one can even count at least 10 alterations within the 20th century.
Changes of alphabet not only lead to illiteracy of an entire population but also had a serious impact on the cultural history of the country. Orthographic uncertainty is only one of the problems. With every change literary heritage was lost. A great deal of historic sources could not be used because records were either destroyed or not politically correct anymore or simply could not be read by the younger generation. Loosing cultural roots is like becoming an orphan. Though today due to arising nationalism the popularity of ancient Azeri writers increases again, pre-soviet cultural assets are reviving. Even though Baku was known as multi-cultural in the 20th century, since its independence the city undergoes a process of cultural segregation. Russians and Armenians have left the country long ago. Schools were mainly reconverted to Azerbaijani again and as an official language Russian is no longer spoken.
Phenomena of Temporariness
The temporary character of the city can not only be sensed in its culture but even becomes physically visible in the cityscape. Baku conglomerates splinters of its interesting town planning history: remains of a medieval medina, a European-looking city centre from the oilboom era of the 19th century and socialist mass housing of the , the satellite suburb. Above all that patches of new high rise buildings expand on the slopes of the Baku-Amphitheatre.
Since fifteen years the Azerbaijani internal market profits from the oil business. A huge influx of foreign petrol money into the small country of Azerbaijan creates a new business class that wants to demonstrate its wealth and arguably western life style. Black Jeeps block the narrow one-way-roads of Baku city centre on their way to one of the many new boutiques or posh restaurant close to the Metro station Sahil. Here one seems to be in Europe.
Just a few kilometres North West of Sahil is Asia.